With the official close of Honest Ed's on December 31st, 2016, we've looked back on the incredible (and eccentric) things Ed Mirvish did in his years. Equal parts artist and entrepreneur, creative business owners can learn a lot from Ed.
Who the Heck is Ed Mirvish?
Ed Mirvish, born July 1914, is known as a businessman, humanitarian, philanthropist and theatre worshipper. Although he was a serial entrepreneur, he is best known for Honest Ed's as well as reviving the Toronto theatre scene. He lived until 2007 and passed at the age of 93, yet his legacy remains.
Honest Ed's opened at the corner of Bloor and Bathurst in 1948, where it quickly became known for extremely low prices along with hand painted signage and corny slogans such as: "Don't faint at our low prices; there's no place to lie down!"

Image source: GIFY
Ed was known for pulling crazy publicity stunts to get anyone into his store. He let his creativity roam free by hosting a triplet's fashion show, a seventy-two-hour dance marathon and other bizarre events. Aside from his original marketing ideas, Ed was known for being extremely generous. Every Christmas, he would give away thousands of free turkeys and fruit cakes to the public. Also being a natural entertainer, at the age of 75, Ed decided to host birthday parties for himself outside his store, giving away gifts, food, drinks, entertainment and rides for the public.
Not only did Ed Mirvish create a thriving store, his family also owns four downtown theatres, the Princess of Wales, Royal Alexandra, the Panasonic, and the Ed Mirvish Theatre attracting world-class shows and creating a little piece of Broadway in Toronto.
Ed Mirvish's accomplishments and big personality make him a top creative entrepreneur. Here are 6 reasons why Ed Mirvish is the quintessential entrepreneur of our time.
1.   He Gave Back to His Community
Through his eclectic ventures, Ed impacted community members from all walks of life. While affluent theatre goers packed the houses of his stage productions, he incorporated philanthropy into his bargain store, with giveaways that included turkeys for thousands of low income customers on Christmas Day. He gave back to artists by offering them affordable housing in Mirvish village. According to Canadiana Connection, Ed was no stranger to being recognised for such contributions. Among the 250 awards he received in his lifetime, one was the prestigious Commander of the Order of the British Empire, and another Officer of the Order of Canada. Talk about an entrepreneur who gives back to his tribe!
2.   He Knew how to Throw a Party
At the age of 75, Ed started throwing himself some killer parties. Complete with clowns, musicians, free food and gifts, his celebrations were so grand that they were known as his annual "birthday festival." According to artist Dr. Judith Cohen, for a month, Ed had a giant-sized balloon sculpture of himself affixed to the roof so that you could see him waving his hand in the wind from blocks away. On his actual birthday, July 24, an entire block of Markham Street was closed to traffic for revellers to enjoy themselves. His 72-hour dance marathons in the late 60s were always a hit. Think dancers in the aisles, a DJ in the store window,  prizes and a party so wild Ed was constantly ticketed for being loud and blocking the street. Now that was a party you did not want to miss!
3.   He Paved his own Path, no Matter how Weird and Unconventional
A marketing guru, Ed constantly thought of ways to draw customers to his store. In his late 50's and early 60's, he recruited 21 sets of triplets to take part in his "Triplets Fashion Show". Over time, Honest Ed's became a tourist hot spot, his personality infused into the store's eccentric signs, corny slogans and bright colours. Ed knew his brand inside out.
4.   He let his Passion for Theatre Guide his Business Decisions
Though he was a "businessman," Ed did not neglect his passion for art. Besides putting his personality into Honest Ed's, Ed purchased the Princess of Wales, Royal Alexandra, the Panasonic, and the Ed Mirvish Theatre. He opened a museum to showcase his collection of costumes and props. On a smaller scale, Honest Ed's alleyway was home to the Toronto Fringe Festival hub. A special event for local thespians and artists, The Fringe Festival celebrates under-represented voices, allowing artists of any level to perform for an audience.
5.   He had Multiple Revenue Streams
A true entrepreneur, Ed knew how to diversify his revenue stream. Knowing his customers wanted convenience, he provided "services that are uncommon in department stores," such as a dentist, eye doctor, hairdresser and immigration help.
6.   He had Mad Ambition and Never Gave Up
Before Honest Ed's was a huge success, Ed had many companies that "failed". Despite that, he never stopped exploring new ways to achieve success. From delivery boy to thespian to king of the bargain basement, Ed is now known for his store, and several theatres, galleries and restaurants that have become important parts of Toronto's history. We can all learn a thing or two from Ed Mirvish!
Toronto For Everyone
Before Honest Ed's officially comes to an end, Toronto for Everybody will be hosting a 3-day extravaganza taking place February 23rd to 26th, 2017. Hosted by Centre for Social Innovation, experience the iconic bargain store one last time! This time, artists take over to create an experience like never before. This event extravaganza is filled with a town hall, cocktail gala, theatre, immersive art maze, bargain city, dancing, workshops, panel discussions and parties! This is an event not to be missed: Check out the schedule HERE!
"In art, everything's relative". – Ed Mirvish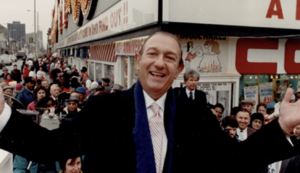 Image source: Toronto Film Scene
Sad to see Honest Ed's go? What were some of your favourite memories? Would love to know in the comments below!