Here's how Celebrities use Social Media :
Want to be a celebrity? Even if you don't, it's likely that celebrities influence your daily life in some way. Even if you aren't one to follow pop-culture, you probably still know who's in the latest box office hit or which A-lister is endorsing the newest Apple product (*cough*cough*, T. Swift.)
Celebrities are experts at cutting through the clutter on your various feeds to grab your attention. "But how do they do it?". Below are 5 ways to use social media like a celebrity:
Use Social Media for Good
Celebrities have one (or more) causes they are passionate about. Pick a cause that's genuinely close to your heart and retweet the heck out of it. Actor Mark Ruffalo (@MarkRuffalo) is no stranger to this tactic. Self-described as a "climate change activist," Mark often retweets organisations such as Climate Reality and Greenpeace USA to reinforce their message to his followers.
Other celebrities who heavily promote important causes are Emma Watson (Goodwill Ambassador for UN Women,) Leonardo DiCaprio (Leonardo DiCaprio Foundation) and Tom Hiddleston (UNICEF.)  Why not use your fame to bring light to social issues? Ready? Set? Retweet!
Connect with Famous Friends
What good is being famous if the world doesn't know which celebrity friends you hang with? Taylor Swift (@TaylorSwift13) is known for her celebutante posse, which includes stars such as Cara Delevigne, Selena Gomez and Blake Lively. Taylor loves to post pics of herself and her crew having grand times at exclusive events.
Swift also likes to make everyone on her well-known friends list feel appreciated with shout outs. If one of her many friends drops a new hit single or celebrates a birthday, an @ mention or a hashtag from Taylor is not far behind. You can follow her lead by highlighting your LinkedIn buddies' achievements on their social media feeds.  Celebrate the successes of your partners or collaborators by sharing their achievements.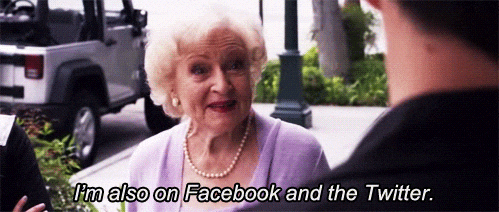 Watch Your Tone 
Celebrities use tone to attract and keep their target market. Actress Emmy Rossum (@emmyrossum) uses a sarcastic tone on Twitter. This is a good fit with her character, Fiona Gallagher from "Shameless." This is a technique which appeals to her target fan base.
Another celebrity with an established tone Ellen DeGeneres (@TheEllenShow) sticks to a light-hearted, family-friendly tone which is portrayed both in her show and her social media presence.
Celebrities sometimes vary their tone across different social media platforms. Ellen chooses to post the same content with the same tone among all of her social media platforms. However, Emmy uses her Twitter for more promotional material, while her Instagram is more like a visual diary, revealing a more relaxed and personal side.
Have you considered using different tones for your business' various social media platforms? Use your Instagram to show off your brand. Reserve your Facebook account for promotions. Keep your tone consistent within each medium.
Build Your Brand
The Kardashians are Kweens (excuse the alliteration, the Kardashians love alliteration) of self-promotion. Kim Kardashian West (@KimKardashian) built her empire on social media. Practically everything Kim and the others Kardashian touch turns to something they can promote. Sure, there might be an occasional photo of North West thrown in, but it's nearly impossible to scroll down Kim's Twitter timeline without seeing something related to her.
If you're an artist or performer, make sure to promote upcoming shows and events. Social media is not the place to be shy!

Connect with Your Fans
Fans used to only be able to connect with their favourite celebrities via magazines and pop-culture television. These days, fans are getting nearly constant access to behind the scenes snippets of their favourite stars' lives. Fans feel like they have a more personal connection to those admire. Some celebrities, like Ariana Grande (@ArianaGrande), take the time to write a simple happy birthday message to a follower.
Perky responses to your clients' and followers' comments show you appreciate their feedback. Make them feel more of a connection by posting behind the scenes moments of your day! Remember, fans are invested in the process as much as the final product.