Hey, I'm Lara!
I'm a digital storyteller passionate about helping artists and creative businesses tell their story online in a fun yet strategic way. I help creatives stand out, captivate their audiences and monetize their authentic brands online. When it comes to knowing what is working on social media, I'll show you how to stand out online and create a business that's true to yourself. 
Your Story: How I Help You CRUSH It Using Social Media

Creating a social media strategy that works for your brand and that is aligned with your goals

Creating a content calendar with custom graphics that showcases your brand.

Goal setting and reporting on metrics that make sense for your business.

Community management and providing top customer service by keeping your prospects happy and engaged.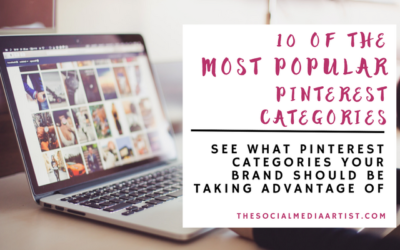 It often seems that Pinterest is one of those social media platforms that can tend to fly under the radar for most brands. But to those who know how to use it, it can prove to be an amazing way to gain awareness and build a following in an online community that is filled to the brim with potential customers. Here is a list of the top 10 Pinworthy topics that you should absolutely be aware of.
read more

Email:  Info@TheSocialMediaArtist.com